The Secondary Education which serves as a bridge between primary and higher education is expected to prepare young persons between the age group 14-18 in the world of work and entry into higher education. Since 1989 education has been seen as a basic human right for a child, article 28, of the Convention on the Rights of the Child states that: primary education should be free and compulsory while different forms of secondary education, including general and vocational education, should be available and accessible to every child.
To keep the Tibetan Community abreast with all aspects of modern education and development while retaining essentials of their traditional system and culture, schools have been opened all over the country, where there is concentration of Tibetans, mostly in hilly areas.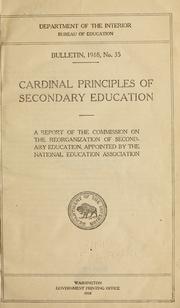 It works closely with the CBCEW Department for Education and Formation, and represents the Bishops' national education policy in relation to the 2300 Roman Catholic schools, colleges and university colleges which the Roman Church is responsible for across England and Wales.
Each program in the NDTA fulfills the legacy of Franklin and Eleanor Roosevelt by fostering inclusive and engaging relationships among teacher candidates, faculty, school practitioners, and learners; immersing teacher candidates intensively in diverse school and community cultures; nurturing social justice leadership skills and dispositions; and coaching candidates toward career success.
Following the Reformation in the 16th century, the Church's role as a provider of public education went largely underground until the re-establishment of the Roman Hierarchy by Pope Pius IX in 1850 – (see above), however, in 1847 the Catholic Poor School Committee was already established, which focused on the promotion of Catholic primary education.